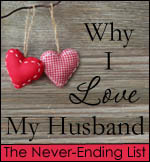 Why I Love My Husband
(the never-ending list):
6. He holds my hand when we walk to the bus.
7. He helps with the housework.
8. He always thanks me for the meals I prepare.
9. When he can't sleep, he uses headphones so that I can sleep without noise waking me up.
10. When he wakes up before I do, he has a hot cup of tea and a bowl of cereal ready for me when I wake up.
I'm joining in the fun with the
Happy Wives Club
and linking up every Thursday! I encourage you to share your "Why I Love My Husband" list with your husband. Shower him with some praise and affirmation. In doing so, may the Lord richly bless your marriage.