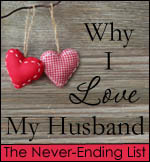 Why I Love My Husband
(the never-ending list):
11. When I cry he kisses my tears away.
12. He always compliments me on my cooking, even when I know I missed the mark on the recipe.
13. He surprises me with with gifts. For example, he bought me a large jar of Nutella last week, even though I'm out of the country. It's waiting for me to enjoy when I return home.
14. He remembers our anniversary (6 years on Sunday!).
15. When I'm fretting over the gray starting to appear in my hair, he tells me how beautiful I am. Knowing I like to take care of my appearance, he brings home a hair color kit for me to hide the gray.
I'm joining in the fun with the
Happy Wives Club
and linking up every Thursday! I encourage you to share your "Why I Love My Husband" list with your husband. Shower him with some praise and affirmation. In doing so, may the Lord richly bless your marriage.