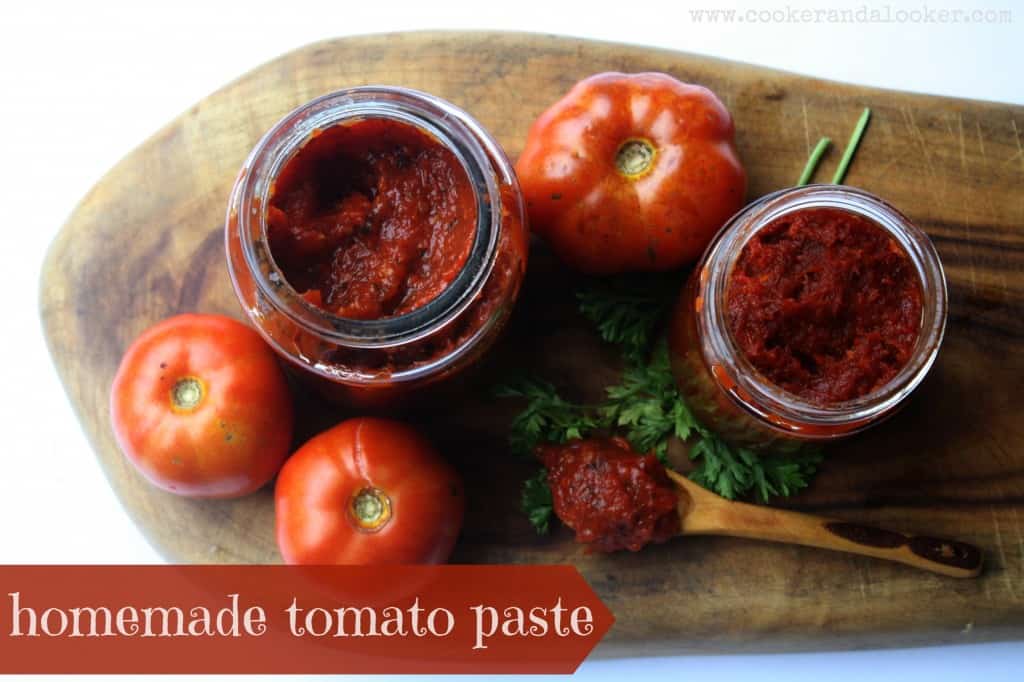 Got tomatoes? Make paste!
Cooker And A Looker - Homemade Tomato Paste
. Amanda shares how to make homemade tomato paste two ways: the thermochef way and on the stove top.
A note about a few of the ingredients for American readers, "capsicum" is Australian for "pepper": red, green, or yellow pepper. Not the spice. The vegetable. "White Sugar" is Australian for sugar, meaning not raw (which looks a bit brownish), not icing sugar or powdered, but granulated. And, thermochef is a fancy Australian kitchen appliance (I'm sure America has its own version.)
Crafty? Link up Tuesday at Blooming Homestead!
Blooming Homestead - Crafty Tuesday
. I for one am glad that Marie decided to host a crafty link-up on her blog. It gives me great reason to craft today...just as soon as I finish this blog post. Marie is inviting everyone to link up projects, recipes, and crafts. Join me in linking up tomorrow.
Not crafty? That's okay, craft link-ups are a great source of inspiration...plenty of pinning going on...and you'll find some great blogs to add to your reading list.
No Sew Tee Pee!
The Handmade Home - A No Sew Tee Pee
. My nephews would flip for this super craft! Set aside a day or weekend (if you are a perfectionist) to create this amazing reading/play space for your little ones. Ashley says it cost no more than $7 to make. Purchase six 1 x 2 x 8′s from your local handy man store and some jute (or duct tape if jute is not available) and follow Ashley's example for the rest...raid your fabric stash! Read the post to find terrific suggestions for how to make this amazing no sew tee pee at nearly no cost.
I think I might win
Super Aunt of the Universe for Life
if I made this for my nephews. Hmm, I wonder how their Grandparents would feel if built this in the bedroom I've been staying in while on my American holiday. Wonder if they will mind? I do realize that I may be sleeping in it...
5 Steps in 5 Days to a Happier Husband!
Happy Wives Club - 5 Steps in 5 Days to A Happier Husband
. The Happy Wives Club introduces
Kathi Lipp
, sharing 5 steps for wives to practice for 5 days to build up their husbands. It's not secret that I'm madly in love with Mr Speech! Any time I can learn how to make my husband happier, I welcome it. Think of it as more ways to say, "I Love You!" Kathi admits that the steps she suggests may not be easy, ask a friend to work with you - encourage you and stay accountable to and pray for you. Kathi is the author of
The Husband Project
&
The Marriage Project
...I have both books...very good. I highly recommend them!
S'mores Éclairs !
Baker's Royale - S'more Eclairs
. I can't resist a delicious eclair! The recipe calls for "finely cut graham crackers". Graham crackers are easy to find in America. I have never seen them in Australia. Any Australian readers know where I can get graham crackers in Brisbane? If I want to make these beauties, I'll have to make some extra room in my suitcase for a box or two of graham crackers. Mini-marshmallows are also not to be found in Australia. I have only ever seen the large size marshmallow and in pink and white. Where can I find plain ol' white marshmallows? I can easily cut them up into a mini size. No worries. Well, that's one more item to add to my suitcase: mini-marshmallows. Clearly, I need to learn where the best places are to buy American imported goods; AND where in Brisbane do the bakers shop?
Happy Wives, I think these would be perfect for step 4 in the 5 days to a Happier Husband.

Hey, if all else fails, do this for steps 1-5.

Methinks, ye husbands shall be very happy indeed!